"The creation and
the Creator
are not two.
For when we see
Mother Nature as the
embodiment of God,
we will automatically
serve and protect her."
-Amma
Amritaculture Gardening Courses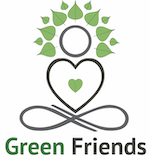 Amritaculture Level 1
8 Weeks
Enrollment Closed
Plant the seeds of Amma's teachings through the spiritual practice of sustainable gardening.  Beginners welcome.
About Amritaculture Level 1
Amma says nature is the greatest teacher.
Amritaculture  is a comprehensive course that features hands-on lessons, practical lectures, awareness practices, and satsangs by some of our favorite Swamis!
Course Overview
Amritaculture Level 1 is an 8 week course, and you'll have access to the content for 10 months.
Highlights:
Tour the Amritapuri Gardens and farms
Attend live Q&As with Amritaculture expert gardeners
Receive teachings from some of Amma's senior disciples, get your hands in the dirt, and start cultivating your own food, flowers, and fruit!
Amritaculture will be taught over a series of lessons focused on deepening you skills.
Infuse Amma's teachings into your garden practice
Every week we'll have
Swami Satsang on Vedanta or Amma's teachings on Nature
Instruction in the garden with practical lectures
Articles
Meditation
Activities
Quizzes
And a live Q&A! 
You can get to know other Amritaculture Gardeners through the Community Discussion Board, and share knowledge with gardeners from all over the world.
You get all this and more for just $27 per week!
Important Dates
Enrollment Period: Now through October 17th
Free Live from Amritapuri: All are welcome!
October 3rd (10 pm India time)
Week 1 Content Available: October 12th
First live sessions: Oct 17th and 18th (classes are recorded & posted for replay)
For specific questions about this course, please reach out to: amritaculture@amritavirtualacademy.com
Prerequisite & Materials Needed
No gardening experience is necessary.
Got Questions?
For more information about the Amritaculture Sustainable Gardening course please contact us at: amritaculture @ amritavirtualacademy.com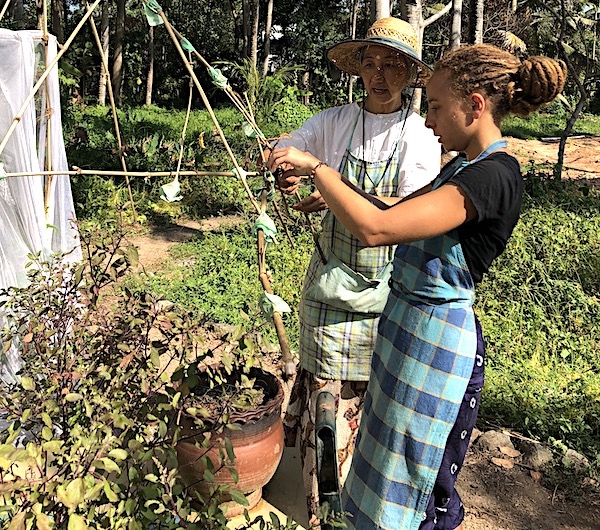 Rooted in Amma's Teachings
"Mother's Garden" located across the backwaters from Amma's Ashram in Amritapuri, is a biodiverse ecosystem of trees, native plants, ayurvedic herbs and wildlife. What started as a small patch of unused land is now a living example of Amritaculture in action. Today, hundreds of people from around the world visit this beautiful, sustainable, living ecosystem that preserves Kerala's native biodiversity. It has become a shining example of how Amma's teachings can be put into practice.
Core Principles & Practices
Core Principles
Gardening is a path to realize our True Self.
The crux of all of Amma's teachings lies in realizing our True Self. Just as we cannot see our own eyes, the inner self cannot be seen. Like Amma, nature is a perfect mirror.. We can often catch a glimpse of ourselves reflected in Amma's love. If we cry, she cries, if we laugh, she laughs. Similarly, when we spend time in the garden, the land and the creatures in it reflect back to us our inner state. If we closely observe nature and reflect upon what we see, we learn about our mind and rise beyond its limitations..
Love is the foundation for all life
Aside from basic necessities such as food, water and shelter, love is needed to sustain life. Love is the glue that holds families and communities together. By mapping this concept onto gardening practices, Amritaculture draws out the love for nature that is inherent within each of us.
The love we feel for Nature is also reciprocated by Nature to all forms of life on Earth. Nature feeds us, clothes us, provides fuel and shelter, and supplies all our needs and desires selflessly. Teachers throughout the ages have continuously reminded us that we are not separate from the Nature we observe. With practice, we can have the realization and experience of our deep and inextricable connection with all life. Amritaculture methodology encourages humans to return to the state of living with love and connectedness.
Giving back selflessly is the way to restore harmony in Nature
We have developed the habit of only taking from Nature. It is becoming clear that we need to change our exploitive ways of interacting with her. In nature, we see that giving and taking goes hand in hand. In order to reverse the current situation, let's start consciously giving more and taking less. Our very existence depends now on how we relate to Nature. Creating an organic garden is a concrete way to improve or initiate our relationship with Nature. With the application of spiritual and sustainable practices, we can harmonize our actions with our environment and repair our connection with the Earth.
Core Practices
Act with Awareness and Reverence.
We need to synthesize alertness and knowledge in our actions in the garden. Taking time to observe the outside world and our inner state before we start gardening minimizes disruptions and mistakes. One benefit is a higher level of efficiency and competency. We cannot afford to waste any more resources through carelessness or lack of knowledge because the stakes are high for our ecological situation on this planet.
Further, acting with awareness and reverence transforms our actions into love offerings; it purifies us, driving away negative emotions. A whole new way of living opens up and we can experience great inner peace and joy. By making an effort to see all that nature gives us, we will naturally feel gratitude towards her.
We have to humble ourselves and realize our small place in the greater picture of the Earth's evolution.
Practice sustainable cultivation methods
Sustainable practices work in harmony with nature with very little waste of energy or resources. These practices strive to emulate the brilliant systems nature has been maintaining for millenia. Amritaculture is a sustainable practice that incorporates what we learn from Nature and aligns human action with her self-sustaining systems. We conserve energy in the form of water, soil and apparent waste. This zero-waste approach involves making use of the resources at hand, recycling and reusing materials whenever possible.
Additionally, we value self-sufficiency. Amritaculture gives us the practical gardening tools to grow our own food, lessening our dependency on the fluctuating conditions of weather and society.
Care for the needs of the greater community.
Part of Amritaculture is expanding beyond our own small piece of the world. Invariably we will grow more food than we can eat. Sharing what we have with our neighbors will build community relationships. In Amritaculture, we encourage sharing the fruits of harvest in order to promote universal happiness. In viewing others' needs as our own, we do our part to alleviate poverty. We need to come together, learn together, and uplift ourselves together.
The community we live in is not limited to the human family. We share land, air, water, sunlight, and food sources with innumerable plants and animals. By cultivating concern for the natural community that we live in and participating in its growth, we sow the seeds of peace and harmony along with fruits and vegetables. Research corroborates that nature reciprocates this loving treatment with flourishing returns.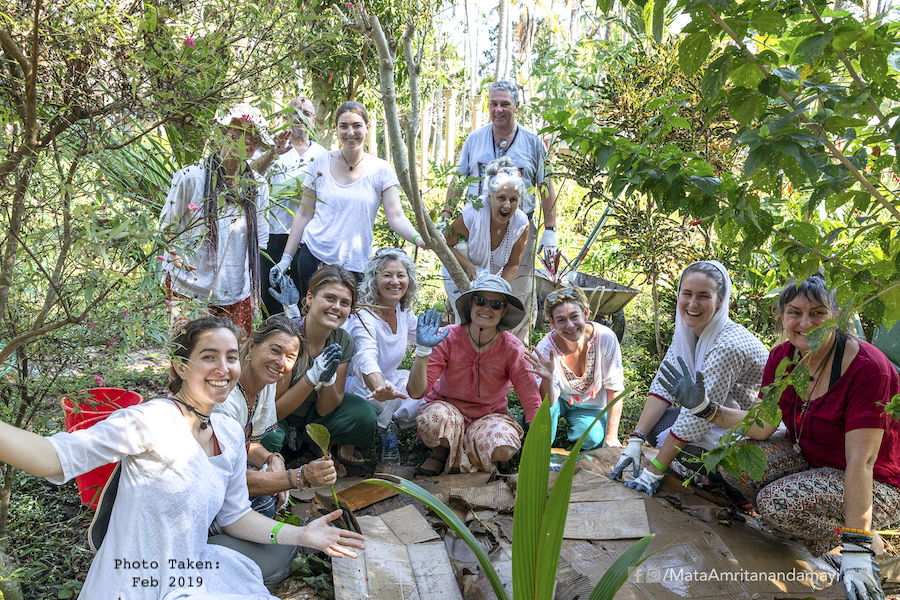 Collaborate with us!
 The Amritaculture Team is always looking to collaborate with other experienced and knowledgeable gardeners or nature lovers.
If you have a class to offer or a contribution to make, please get in touch at amritaculture@amritavirtualacademy.com
What's the timeline of registration?
Pre-0rder is an option to secure your seat by signing up. Courses that are available for pre-order will follow a specific schedule that is outlined in the course information. Check each course for details about specific dates and times.  
How do I register?
The next step would be to choose your desired course on the website, click the pre-register button and fill out the pre-registration form.
In this initial phase, seats are limited in the music courses. The pre-registration helps us to have an accurate count of interested students.
After the pre-registration form is submitted, students will be contacted via email with a link and instructions on how to complete enrollment on the online e-learning platform.
How do the courses work?
After students receive their instruction email, they can follow the link to the e-Learning platform where courses will take place. From there, students will create an account with an email, enroll in a course and then pay the course fee. Class materials, resource videos, and links to the live sessions will be housed on the e-Learning platform. Live sessions will be recorded and posted for replay. Students will then receive detailed information on the classes and when they will start.
How much do courses cost?
We will be offering inaugural pricing for this phase. When you pre-register, details will be given on exact pricing, as it varies per course.
Can I drop into one session to see what it's like?
At this time, classes cannot be taken individually. You must enroll in the whole course.
Can a student enroll in multiple courses?
For the music courses, we suggest you stick to one course at a time because live sessions may conflict with one another.
Will you be offering other courses in the future?
Yes, we plan to release more courses in the future. Stay tuned for updates!
How can I stay updated?
Keep in touch with updates on Amrita Virtual Academy:
Join us today!
Lifelong learning can enhance our understanding of the world around us, provide us with more and better opportunities and improve our quality of life. Join us on your journey to learn something new. No experience necessary. Beginners are encouraged! Courses will be offered on an eLearning platform developed for online education in India and across the globe.