Amrita Virtual Academy Blog
Welcome to our blog! Here you will find interesting articles on a variety of subjects. Stay connected with your instructors, deepen your knowledge and stay updated!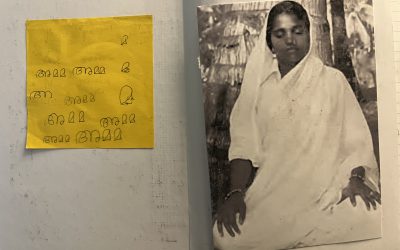 by Vishala - Guest Blogger | Aug 6, 2023 | Amma, Malayalam
I still have the little yellow paper with the handwritten Malayalam word അമ്മ (mother) on it. I looked up the word in an online dictionary a couple of days after first meeting Amma, and those letters became sacred to me. I practiced the As and Ms over and over again,...
read more
Categories
Authors List
Adarsha - Guest Blogger,
Amala P.,
Amartya - Guest Blogger,
Amrita Virtual Academy,
Amritapushpa N.,
Anaswara,
Anu Chechi,
Aradhana Hendry -Guest Blogger,
Brahmachari Vipin,
Charusila - Guest Blogger,
Diya - Guest Blogger,
Eknath - Guest Blogger,
Lola,
Marleny Franco - Guest Blogger,
Padma,
Rajeswari - Guest Blogger,
Sarvaga,
Seetala,
Swami Shantamritananda Puri,
Vandya Huntting,
Vishala - Guest Blogger