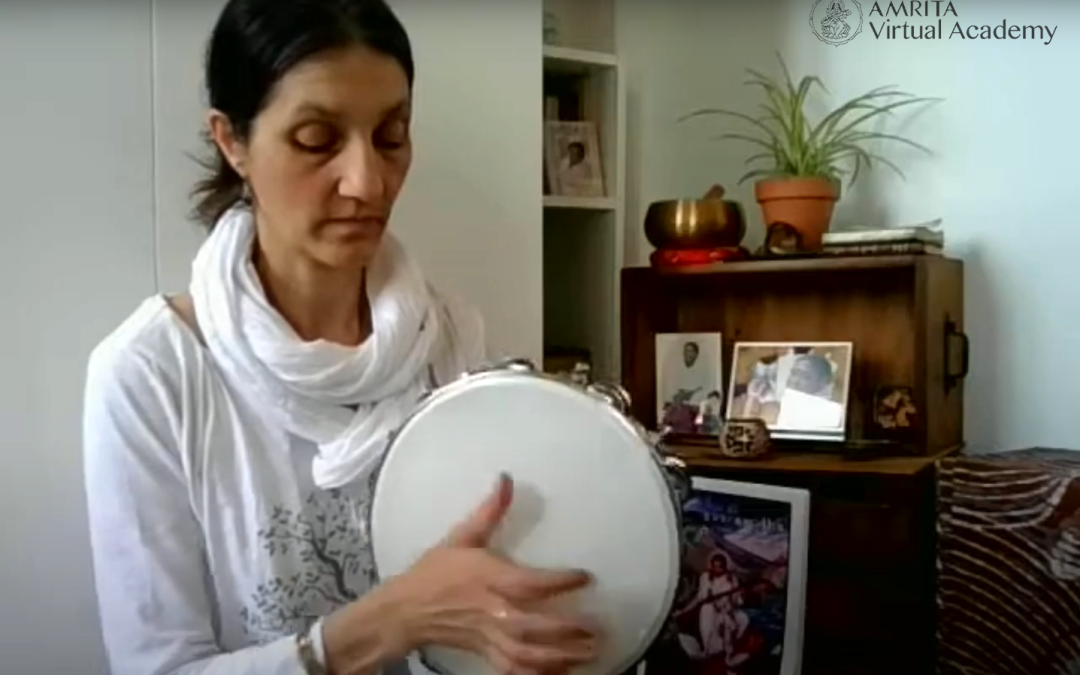 During the coronavirus pandemic, we began offering online music classes.  Before, I only taught the Ganjira in person, and only at Amritapuri. Many students were eager to learn, but some could only visit the ashram for one or two weeks and so did not have enough time to delve deep into their studies or take many lessons. 
Since people couldn't come to Amritapuri at all during the pandemic, we began to conduct Ganjira classes online through Amrita Virtual Academy, with great benefit.  As learning an instrument can take some time, students could progress from home at their own pace through a large variety of rhythms and beats. They could submit video assignments or join us for live sessions according to their own schedules. It was really inspiring to connect over Zoom and offer feedback and encouragement. Our students are so sincere and dedicated. Here is some feedback from one of our Ganjira students from Spain named Sridevi:
I have just finished the first Ganjira (Headed Tambourine) course and I want to share my experience with you.
As a whole, it has been a blessing, as are all of the ways Amma gives us to grow and become closer to ourselves. I would not say that learning a new instrument has always been easy for me, but the whole time I felt I was in the best company possible. During the classes I felt very well cared for — guided through all of the hurdles and gently brought out of any potholes on the road of learning.
I had never learned how to play any other instrument before I started the Ganjira course at Amrita Virtual Academy — a virtual holy space inspired by Amma. Because of this my progress felt slow, but the effort was worth it to grow closer to Amma's teachings and the feelings of inner spiritual presence this musical sadhana offers. 
Learning an instrument is a very easy and sweet way to keep your mind on God all day, because you go so deep into the lesson that you can spend a great part of the day delving into the bhajan you are studying that week. It also helps us become oblivious to any toxic atmospheres we may be subjected to in our day-to-day lives. Bhajans are a great inner companion — always offering positive thoughts and vibrations — in contrast with what we sometimes have to hear when living in the world. Immersing ourselves in bhajans is like wearing a shield!
Devotional practices are always sweet, even from the beginning. However, trying to learn something new can be frustrating at times, and that is a great time to practice some of the qualities Amma constantly reminds us to cultivate: patience, acceptance, will-power, perseverance, determination to continue, focus, and self-confidence. It is a very long list!
Playing takes a lot of coordination, as the left hand also plays its part in making the music! One hand (the right) strikes the Ganjira, while the other hand (the left), helps tune and adjust the quality of the sound. I'm so grateful for this excellent step-by-step course, which helped me make strong progress in learning this instrument. 
I'm sure that anyone with an interest in learning the Ganjira will really enjoy this course, and soon be joyfully playing along with Amma's bhajans. May the grace of the divine be with you all in your musical inner journey! May the Divine Mother bless us all with her presence within every time we pick up our instruments.
Om Namah Shivaya!
Sridevi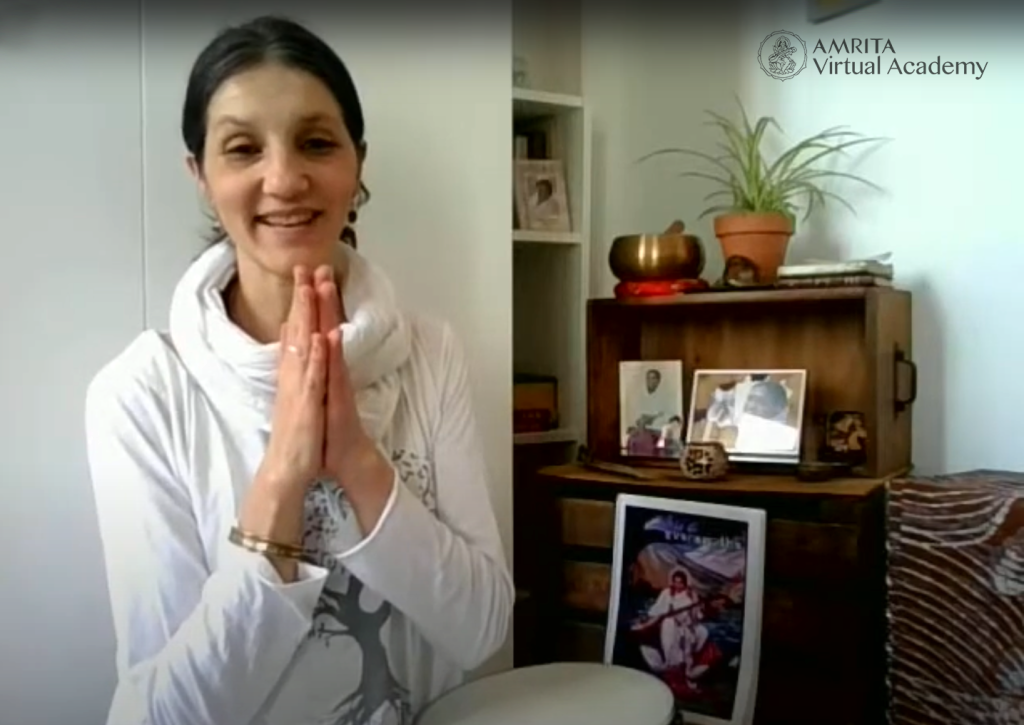 It really brightens my heart to hear such beautiful thoughts from this student, who obviously has been studying hard while connecting with the depths and deep benefits available from the gangira and other instruments we teach at Amrita Virtual Academy.
We are so grateful to all our students who have helped AVA come to life. It has been a beautiful few years together. We look forward to further learning and growing together. If you have any questions about the Ganjira, please contact us at support@amritavirtualacademy.com.
You can learn more about our online course here: https://courses.amritavirtualacademy.com/courses/ganjira
You can also see how the Ganjira is played here:
Wishing you grace in all your endeavors and studies.
In Amma,
Vipin
Ganjira Instructor, Amrita Virtual Academy