In what world does a grassroots environmental initiative like "seedball tossing" involve the in-person participation of the President of India, Smt Droupadi Murmu, thousands of participants, and many other important government leaders, with only a couple days' notice? In the inspiring world of Civil 20, 2023! This is one event of many in the Global Seedball Campaign, one initiative of Amma's C20 efforts in Sustainable and Resilient Communities.
The making and distribution of seedballs
Putting some seeds in a ball of manure or compost and soil is an ancient technique for reforestation and soil restoration that offers a way for community groups to come together and contribute to restoring our planet's ecological balance. Seedballs can be thrown into areas needing restoration—or dropped from helicopters or planes!  
Under the guidance of Amma, Sri Mata Amritanandamayi Devi, the Chair of Civil 20 during India's 2023 G20 Presidency, the Working Group for Sustainable & Resilient Communities partnered with AYUDH (the youth wing of Mata Amritanandamayi Math) to launch the C20 Global Seedball Campaign. The goal was to make, and toss, 1 million seedballs worldwide. Globally, volunteers gathered at Embracing the World centers across India, and in Asia, Europe, South America, North America, Australia, and Africa as part of an effort to encourage people to contribute to this goal in whatever way possible. Other organizations, including the Government of Puducherry, private schools and colleges, and even businesses who wished to contribute to their communities, joined in the campaign.
In a way, the global campaign itself is a metaphorical seedball. The idea for the campaign was the seed, and the spread of that idea throughout Embracing the World centers across the world, to other organizations and businesses, is akin to the spread and rooting of that seed.
Seedballs mimic nature by providing protection and fertilizer for the seeds inside. If you've ever seeded a garden and watched birds swoop in and eat most of the seeds, you can probably see why the coating around the seeds is protective in more than one way.
---
On August 7, 2023, President Murmu graced the C20 Global Seedball Campaign,
along with many government officials and dignitaries (see partial list below), at the Thirukanchi Temple in Puducherry, India. She inaugurated the Seedball Dispersal initiative by tossing the first seedballs made by Puducherry students, to help with reforestation at the Temple grounds.
The event, originally envisioned as a simple series of workshops and classes for students and members of the NCC (National Cadet Corps), grew like, well, fertile seedballs, into a huge event with 5,000 student participants from Puducherry government and private schools and colleges, as well as volunteers from all over Tamil Nadu. Amrita Virtual Academy also joined in to support the effort. Chandrika Suliman, an educator with the Amritaculture gardening and ecology classes, was an organizer for the event.
With the power of grassroots organization, youthful passion and the hope the project embodies, word spread quickly. Eventually the campaign distributed 500,000 seedballs across vulnerable ecosystems in the area around Puducherry and Tamil Nadu. Other cities, like Coimbatore, Chennai, have since held similar events—the power and passion initiated by the Puducherry event resulted in both vitally needed environmental reforestation and education, while also being a widely noticed example of cooperation and collaboration across many different organizations and levels of government, citizens, and NGOs. The whole world needs such examples of sincere gatherings and outpourings of cooperation and hope.
In addition to President Murmu, the event included esteemed guests such as Dr. (Tmt). Tamilisai Soundararajan, Hon'ble Lt. Governor of Puducherry; Shri Thiru. N. Rangasamy, Chief Minister of Puducherry; Shri Thiru. C. Djeacoumar, Hon'ble Minister for Agriculture and Forest, Puducherry; and Swami Ramakrishnananda Puri, Treasurer, Mata Amritanandamayi Math. Students from government schools, private schools, medical college students, arts college students, NSS and NCC students were among the participants.
For information about the inauguration of the program in Puducherry on July 21, 2023, just two weeks before the event described above, please see the video below:
---
Globally the campaign has taken many forms. For example, at the19th Annual European AYUDH Forum, in August, 2023, Swami Amritaswarupananda Puri led the group in a seedball distribution in which seedballs were made and planted around the German ashram.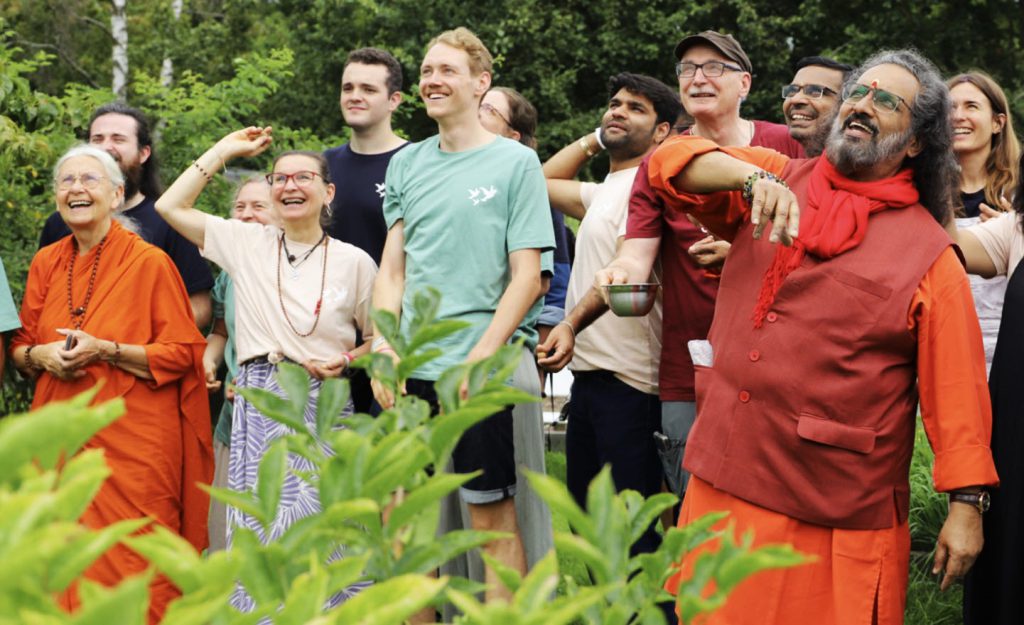 Source:  https://www.embracingtheworld.org/news/ayudh-europe-dare-to-dream/

: AVA Instructor at Large: The C20 Global Seedball Campaign, at Puducherry, India
---
Links
A news program about President Droupadi Murmu's Seedball Tossing event:
See how the Indian Navy has tossed the seedballs from helicopters over degraded forest areas, to show their support for the C20 Global Seedball Campaign:
https://www.thehindu.com/news/cities/Madurai/indian-navy-committed-to-preserve-environment-helps-in-aerial-dispersal-of-5-lakh-seed-balls-in-ramanathapuram-district/article67289145.ece